Maccheroni gratin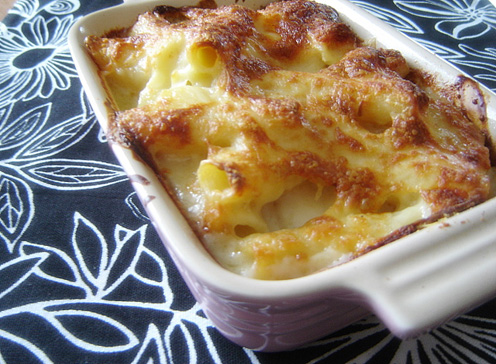 ---
Ingredients:
300 gr. of Maccheroni.
150 gr. Mixed cheeses. (gruyere, gorgonzola cheese..any kind you like).
50 gr. of Parmesan cheese.
Besciamella sauce (for the recipe follow this link).
Salt.
---
Method
Cook the maccheroni in salted boiling water for 3-4 minutes less then its normal cooking time (the cooking time should be written on the pasta pack).
Melt the cheeses in the besciamella sauce (warm).
When the pasta is cooked, place it in a pan, pour the besciamella sauce on top, sprinkle the parmesan cheese and some butter.
Cook it under the grill of the oven (180°) for 8 to 10 minutes.
Serve it hot.